Kantu V2 released, includes Visual Web Scraping
Kantu V2 is available. What's new:
Web Scraping Support
PDF automation, testing - and scraping
New macro command: EXTRACT
Scripting API: New command: GetExtractImageData()
Now based on Google Chromium V55
New demo macros and scripts included.
Support for HiDPI systems like Surface Book. You can move your picture-driven macros between all kind of systems - they will not break.
Many smaller improvements and tweaks
Download link: https://ui.vision/
After you installed the new version, make sure you run the included demo macros.

Kantu V2 includes PDF support: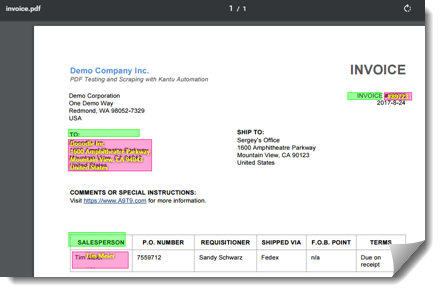 Kantu comes in different editions:
Kantu Community Edition. This version 100% free for private and commercial use and contains all browser features.
Kantu PRO Edition (US$ 299.00). This version has all the features of the free version, plus the powerful scriping API.
Kantu PRO Plus Edition (US$499.00). This version allows you to redistribute your solutions without any runtime fees.
Tip: If you purchase Kantu PRO Edition until April 30 your purchase includes 2 years of free upgrades and tech support.
Upgrade tips:
With version 2 we changed the file extension from *.xkts to *.kmacro. As this is just a name change, you can adapt all your old macros to the new version by simply renaming the extension.

All version 1 macros run in version 2 - no changes required.

If you already purchased the Kantu PRO Edition, this is a free upgrade. You can re-download your full version inside the customer portal.
As always, please contact us if you have any question or suggestion. Or you can leave a comment below.